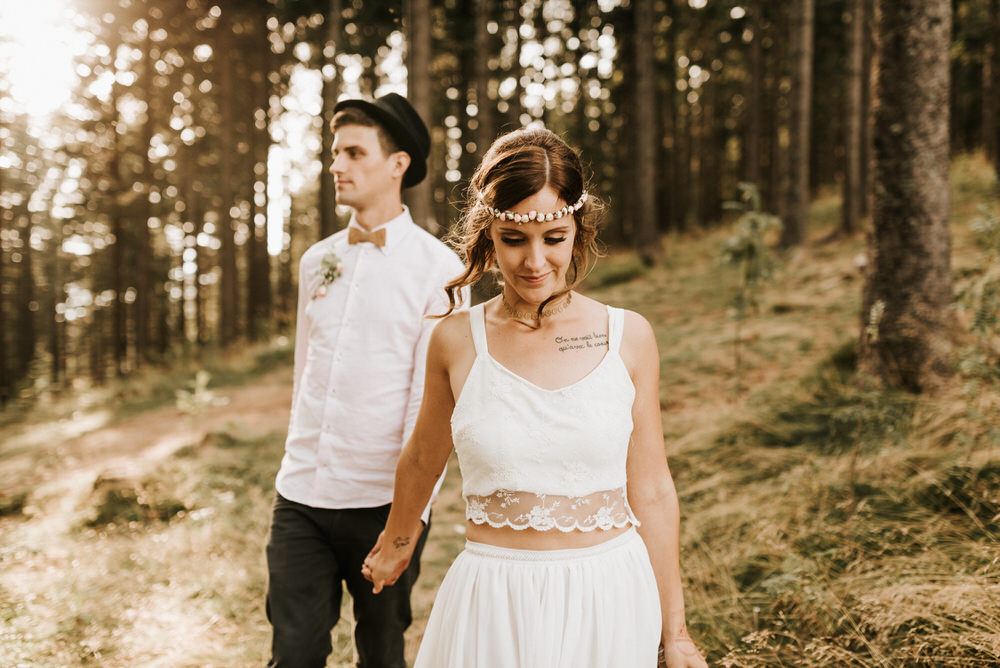 Forest mountain wedding at Kope ski resort
I have always admired couples who take charge of their wedding. To make it the way they wanted and not the expected way. To have a wedding that means something to them and not having a wedding just for the ceremony itself. Or even worse – just for the paper. Marusa and Urh decided to have a forest mountain wedding at Kope ski resort. They are both ski instructors and they have spent numerous long winter nights in a cabin nearby. Without any distractions like TV they had a chance to really spend some quality time together. And most importantly to deeply know each other. Not just what TV series or shows someone likes but what is their passion and what or better said who they really love!
Like I said they are both ski instructors and deeply in love in snow and winter. But in the summer time when sun melts the snow they become crafty with their hands and make some pretty unique products like wool hats, clothes, wooden ties and more. Make sure to check out their MU accessories page especially if you are a proud parent to a newly born kid.
Forest mountain wedding
What I really loved at this wedding was how spontaneous the day was. M&U didn't let anyone to spoil the atmosphere of their day and the flow of their personalities  With no rush from an event to another, no pressure on the vendors including myself obviously. I was able to take them away from the party for half an hour at just the right time. When the sun just started to hide behind tree branches and to make this photoshoot from a forest mountain wedding perfect. It definitely is one of my favourite sessions so far and will never forget their energy. Thank you!
Make-up: Nea Likar
Hair: Frizerski salon Maša
Wedding dress: krojaštvo Dornik, Slovenj Gradec
Wedding bouquet: vrtnarstvo Skornšek
Cattering: Vabo d.o.o.
Band: Kaval
Wedding stationery: DIY by Marusa and Urban and their family&friends